PR ON THE GO October 18, 2022
How To Spread Enthusiasm With PR In An Age Of Crises
How can PR campaigns respond to the current precarious state of the world?
We asked our PR and growth experts to give entrepreneurs examples of positive PR campaigns amid scary world news. Check out their tips on how to spread enthusiasm with PR activities in times of a negative outlook on world events.


Stay Silent And Listen
"I say know when to stay silent and listen, there is nothing worse than a beautiful cake photo on a day when people are mourning or collectively something fragile is happening. Being silent is better than being tone deaf! Have your team look for ways to inspire through a comment on social media that is uplifting and authentic vs. promoting yourself when the time and the collective thinking is on a topic."


Build A Campaign Through Optimism
"Entrepreneurs looking to spread enthusiasm and kindness with PR, can focus on the values of their organizations and share feel-good stories and initiatives to help spread the good news aligned with these core values. When we look at the history of the world, it is rare not to see a world facing war, recessions, pandemics, and other scary news. And as long as that has existed, so have people who are looking to make the world a better place.

I encourage entrepreneurs and business owners to focus on spreading the feel-good news that allows them to connect with their audiences in positive emotion. Rather than selling through fear, lack or scarcity, build a campaign through connection, hope, and optimism. Connect the positive emotion that you wish to bring to life in the world through your business, and create campaigns that help amplify the good news.

To be successful, entrepreneurs must embody and live the values of the story they are preaching."


Resilience Is Contagious.
Tonya McKenzie, Founder, PR Consultant & Trainer at Sand & Shores
"The essence of a good public relations campaign relies on the ability of the story told to trigger something in the reader or viewer. To offset some of these tumultuous times, such as now, that trigger can be positive, inspirational, motivational, and inspiring. Of course, to get to that high point, the story must include struggle and pain-point. For entrepreneurs, instead of simply talking about your product or a safe business story, include the struggle of building the business, a failure, and a rebound. Pitch a story that connects your audience to you by pitching a story that people can relate to. Currently, natural disasters seem to be happening on a regular basis. If you have a personal story or your company has survived some type of crisis, pitch that story. Emphasize how you overcame and survived. Resilience is contagious. Share your stories and elevate the victory. It's the best way to spread enthusiasm with PR these days."


Focus On Your Company's Values
Krittin Kalra, Founder of Writecream
"PR campaigns should focus on building the brand, not on the crisis. The best PR campaigns are those that take a positive approach, and focus on what the company does best. It's important to keep the company's mission in mind when planning a PR campaign, and to focus on the company's values.

I think that PR campaigns are a good way to spread optimism. I've seen campaigns that have been successful in the past, like the "this is going to be the best day ever" campaign. It was a campaign to spread positivity and spread the word that it is going to be a great day. It was a campaign that was successful in the past and is still being used to spread the word.

If you're looking to get the word out about your company, PR campaigns are a great way to do that. We've seen a lot of PR campaigns that are able to spread positivity and enthusiasm. For example, one of our clients is a company that makes a product that helps people with their daily lives. They created a campaign that showed how their product can help people with their daily routines. They were able to use their product in real-life scenarios to show how it helps people. They were able to use social media to spread their campaign and get a lot of momentum.

PR campaigns can be used to spread enthusiasm and positivity around a company's products and services. For example, a company could release a video of their CEO giving a motivational speech to their employees. Or they could release a video of their employees giving back to the community."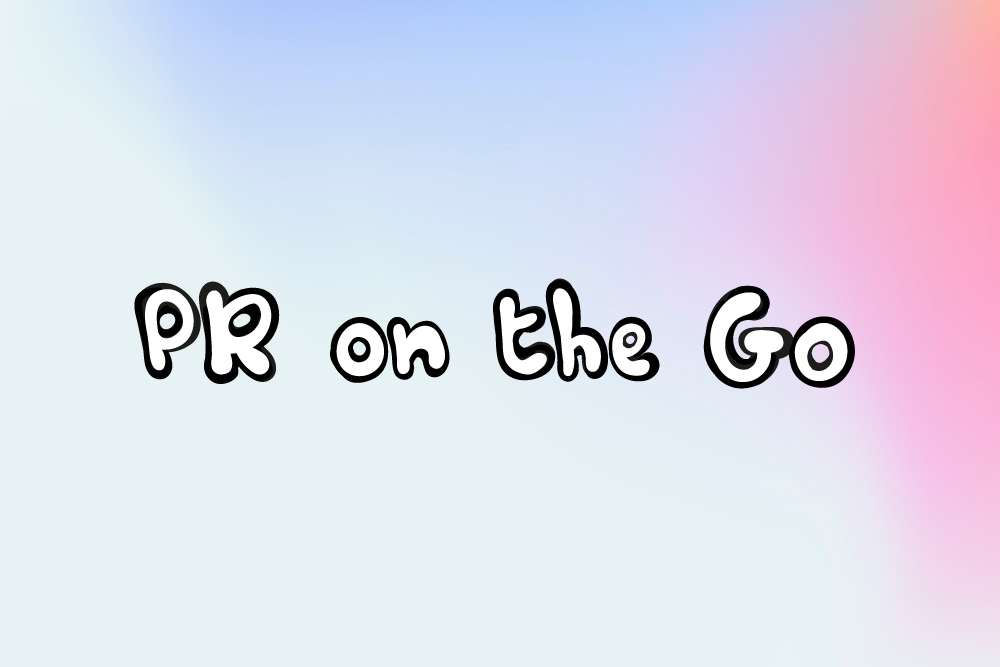 PR ON THE GO Media Lists: Get your hands on journalist email contacts for your startup. FROM ONLY $10 PER LIST.
Highlight The Little Things
Alex Wang, Co-Founder & CEO of Ember Fund
"It can be tough to remain positive during an age of crises, but even in the worst of times, there's usually always SOMETHING to celebrate and feel good about—even if it's just little things. A business can spread enthusiasm in their PR campaigns by acknowledging the steps they're taking to make the most of the journey through the current circumstances that are plaguing the world. Bring light to notable community initiatives, share news of early ideas for future success and more community engagement, highlight wins both small and large, despite the scary times.

Stay positive, by sharing positivity and recent success with your audience to spread enthusiasm and maintain morale."


Focus On The Positive
Jonathan Zacharias, Founder of GR0
"Despite the constant negativity that seems to surround us on a regular basis, it is crucial to remain optimistic as much as possible. This goes for both our professional and personal lives.

When it comes to PR, there is always a positive thing to highlight, no matter how unlikely it may seem. Additionally, add elements of optimism for the future into how you develop campaigns from the start.

By choosing to instead focus on the positive instead of the negative, you will be more likely to connect with your target audience in a more effective way."


Appeal To Personal Passions
Kevin Callahan, Co-Founder & CEO of Flatline Van Co.
"PR campaigns should appeal to personal passions to spread more enthusiasm. Nothing fires people up quite like a favorite sport, hobby, or passion. They unite individuals under a common interest and that is a natural producer of enthusiasm by itself. Bonding one's campaign to something with mass appeal will garner more interest and drive outcomes better than facts and figures alone."


Be People Centric
"Companies with a big voice and following can do their part by sharing positive stories with the world. For certain companies, this is easier but there's a way to do this for every business in some way.

What I mean by this: create a campaign that tells a positive story from the perspective of an employee, a client, or someone in your community. Obviously, there will be a tie-in to your company, but it should be based on something positive that you can share.

For example, did an employee overcome adversity while working with your company? Share that story.

Did a client use your services to turn around their life/company? Share that story.

Have you been getting out into your community and making a difference? Don't be shy - share the story.

We hear so many negative stories about our declining economy, a failing society, and an increase in violence.. Do your part in sharing a positive story."


Spread The Feeling Of Togetherness
Jordon Scrinko, Founder & Managing Director of Precondo
"Running a successful company for 9 years has taught me the relevance of public relations campaigns. In this age of crisis filled with negative world news, the role of public relations becomes increasingly important. PR should aim at identifying major global or local issues. These issues must be addressed by the means of campaigns. Encouraging the public to participate in such campaigns spreads the feeling of togetherness. Contributing to a noble cause spreads enthusiasm and positivity."


Be More Attentive To Your Audience
Simon Elkjær, Chief Marketing Officer of avXperten
"Putting yourself in your audience's shoes and practicing more empathy will help you spread enthusiasm with PR in an age of crises. Reading the room and being mindful of your tone will prove to be immensely helpful in refining your overall approach and creating messages that resonate with your audience. Being more attentive and putting your audience first will help you find your voice during such negative times."


Prioritize Your Brand's Social Initiatives
Chris Gadek, Vice President of Growth at AdQuick
"Prioritizing your brand's social initiatives shows people they're not alone in their concerns over social and environmental issues. At a time when so many people are sitting home alone, absorbing the fragile state of the world, inviting them on your campaign for change, empowers them to stand and take action with you and others who feel the same.

At AdQuick, we're proud of our work connecting people in the real world to the causes and social movements they care about through creative out-of-home campaigns that pique their interest, inspiring them to take part.

In 2021, we partnered with law student Loralei HoJay on the Justice for Breonna Taylor crowdfunded OOH billboard campaign. We sought to raise money for strategic billboard placements in Louisville and Lexington. The goal was to keep Breonna a priority by ensuring government, business, and law enforcement leaders saw the American people stood with Breonna and her family – and demanded change. Nearly $80,000 was raised to pay for 109 billboards that garnered more than 28 million impressions in just four weeks, helping HoJay's petition gain 10 million signatures.

While AdQuick's role in this campaign was small, we were honored to receive a 2021 Muse Award and a Chief Marketer PRO award, expanding awareness of how OOH advertising can help ensure the positive impact of a brand's CSR initiatives.

So whether your brand is looking to increase awareness or encourage people to take action, your campaign's creativity should align with its goals. The objective is to have clear messaging that catches people's attention, is informative, and sparks curiosity to drive action."


Tell Me Something Good
Michelle Bonner, Director of Public Relations at Adams & Knight
"Our PR department designed a couple of initiatives that addresses this question…

In both cases below, the stations were looking to break up the 'negative' news with something positive… so, "Tell Me Something Good" and the "Connecticut Bucket List" were born…

This collaboration enhanced our PR relationships, becoming even more robust…

Tell Me Something Good About Connecticut

This ongoing earned media partnership with WRCH-FM (Lite 100.5) was created for the sole purpose of breaking up the negative news cycle -- The segment called "Tell Me Something Good About Connecticut," which airs Tuesday mornings at 8:10 a.m. is a way to help tell more good news stories about the state of Connecticut on a regular basis. The Connecticut Office of Tourism/Adams & Knight provides the radio station with weekly positive stories about Connecticut, including stories about interesting businesses, upcoming events, and new tourism attractions. The segment is also posted on the station's website each week.

Tell me Something Good About Connecticut was started 5 years ago … and it's become such a staple of enthusiasm … something that people look forward to every week. It's rare that something like this would last as long as it has… but it really illustrates how much people need something good to hear. And when the news cycle is so negative, having something that consistently generates a positive moment in the state where you live, it becomes a part of something bigger.

audacy.com/wrch/latest/local/tell-me-something-good-about-ct-october-4th
audacy.com/wrch/latest/local/tell-me-something-good-about-ct-september-13-2022

Connecticut Bucket List

This Ongoing earned media partnership with FOX61 was also created as way to share more good news stories and drive in-state tourism by encouraging residents to share what's on their Connecticut Bucket List (#CTBucketList). The Connecticut Office of Tourism/Adams & Knight provides content ideas, ideas for features, and access to thought leaders for interviews. We also promote the partnership via social, email and the website. FOX61 heavily promotes the program, tourism in the state, and the website on air and in their social feeds. The program includes seasonal launches (winter #CTBucket List, Fall #CTBucketList, Summer #CTBucketList, Spring #CTBucketList) and week-long promotion on FOX61's morning show during their sweeps weeks. This imitative was started in 2018 and, again the longevity of it really underscores how much people want and appreciate those good stories… especially where they live.

fox61.com/ctbucketlist

We are incredibly proud of these campaigns that have really become something to look forward to."


#PRontheGO