PR ON THE GO July 19, 2023
What was the PR success story of your business, and how did you get there?
Media coverage can expose your business to a lot of reach and, if targeted well, clients.

We interviewed 18 entrepreneurs who grew their businesses with DIY PR and marketing techniques. We asked them: What was the PR success story of your business, and how did you get there?
Let's look into the DIY PR entrepreneurs' experience and advise:
Larissa Soehn of Next Page Publishing Inc.
"I am featured on a weekly radio show that will be airing over 15 episodes about me, my business and my expertise. This has been an incredible lead generation for my business and adds a huge amount of credibility to me and my message."
Read the full interview with Larissa Soehn
Casey Halloran of Costa Rican Vacations
"We use PR primarily as SEO support. In my view, it's one of the best ways to build valuable backlinks."
Read the full interview with Casey Halloran
Alexus Renee of Celebrity Myxer
"I remember sitting down one day, my tiny startup just beginning to sprout its wings, surrounded by my countless contacts from the media industry. As a seasoned journalist, I've spent a significant chunk of my life crafting stories and informing the public. But now, I was on the other side, a startup founder attempting to write an entirely different kind of story.

The concept of DIY PR may seem a tad overwhelming to some, but for me, it was like working in my backyard.. Having collected a treasure trove of contacts from fellow journalists, bloggers, and media outlets, my address book felt like a roadmap to success. It's often said that in business, it's not just what you know, but who you know. And with this robust network of industry insiders, I felt well-equipped to navigate the precarious world of startup PR.

Diving headfirst into this exciting challenge, I began by fostering meaningful business relationships with my existing contacts. The conversations that unfolded were rich and engaging, offering me unique insights and perspectives that I might never have considered as a journalist. The reciprocal nature of these relationships opened doors to others in the media industry with similar synergies.

The next phase of my PR journey began when I penned down my first press release. I knew from experience that, as journalists, we are constantly inundated with press releases. So I leveraged my experience and crafted a press release that was intriguing, insightful, and most importantly, newsworthy. I was putting myself in the shoes of my contacts, pitching a story that they couldn't resist picking up.

Sure enough, when I finally distributed my press release, I was met with a wave of receptive responses from my media contacts. The charm of a story that is well told is universal, and my experience in the industry had taught me precisely how to do that. My contacts appreciated the thought that had gone into the release and were more than willing to publish my stories.

The result was phenomenal. The media coverage that followed was both heartening and motivating. My small startup had made its mark in the media landscape, all thanks to a PR strategy fueled by networking and a deep understanding of the industry.

Reflecting on my journey, I can confidently say that DIY PR can be a game-changer for entrepreneurs. But it is also true that my media background played a significant role in shaping my strategy. The key is to leverage your strengths, understand the power of relationships, and, most importantly, know how to tell a compelling story.

If you're an entrepreneur, consider your unique skill set and how you might harness it for your PR efforts. And if you're from the media industry, like me, don't underestimate the power of your network and the skills you've honed over the years. The story of your business is yours to tell, so why not do it yourself? DIY PR can be your secret weapon in the world of business. After all, it certainly was mine."
Read the full interview with Alexus Renee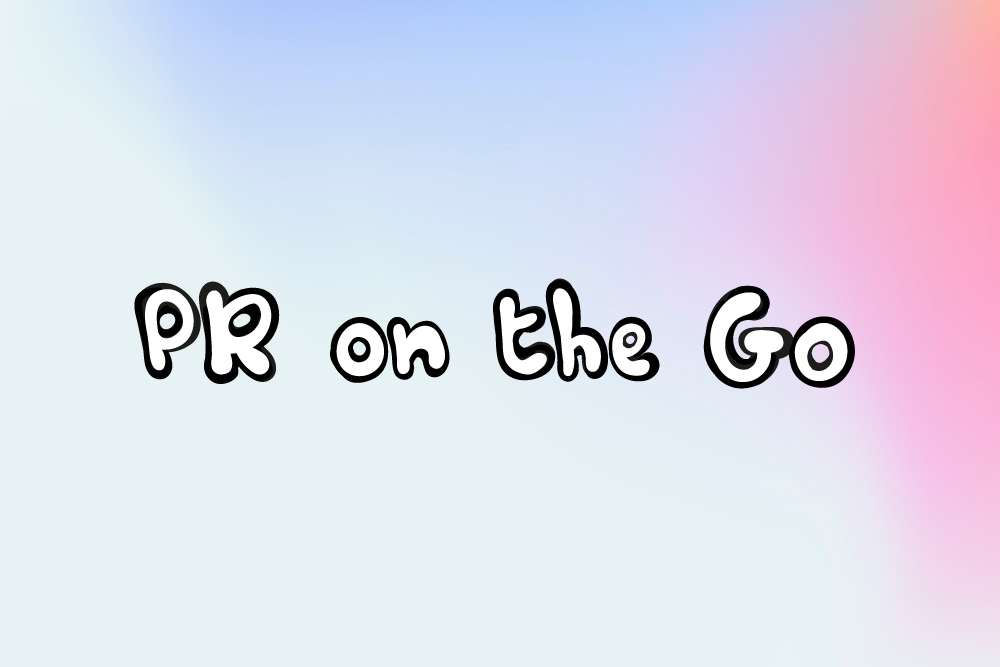 PR ON THE GO Media Lists: Get your hands on journalist email contacts for your startup. FROM ONLY $10 PER LIST.
Leana Shayefar of Arebesk, Inc.
"Honest PR campaign with videos and reels as well as studio awareness through IG. it has been alot of work and consistency and we are still learning and growing."
Read the full interview with Leana Shayefar
David Pressler of DRD Enterprises inc of Davie
"Year 2004. Four hurricanes ripped across Florida one destroyed the mobile home belonging to the Burton family West Palm Beach. They saw my video on safedomes and bought one. Six weeks after delivery the eye of Wilma went down their street on local channel 5 television Rudy Burton said he and his Mother spent seven hours with 145 continuous mph winds and did not know there was a hurricane outside if not for the sound of metal flying off the mobile homes. There are now 5 safedomes within the community."
Read the full interview with David Pressler
"The Cabin Lady" Leslie Anne Morris
"I was approached by three different well known nationwide TV programs within the same 2 week span this year. It was very exciting. They had seen me featured on YouTube and wanted to work with me."
Ibad Hussain of Embedwiz
"Within a year, Embedwiz had gone from a little-known startup to a respected player in the tech market. Our user base had grown tenfold, and we had received funding from a major venture capital firm."
Read the full interview with Ibad Hussain
Jennifer Silver of Macleod Trail Dental Clinic
"Innovative Press Kits: In the months leading up to the launch of my clinic, my team and I prepared a comprehensive PR strategy. We identified our target audience, crafted key messages, and developed a media kit. We crafted press kits that went beyond traditional documents. These kits included interactive elements like videos, AR experiences, and personalized product samples related to dentistry. The innovative press kits captured journalists' interest, encouraging them to explore and share my brand's story in their articles.

Collaborative Content: Collaboration was a cornerstone of my DIY PR strategy. I collaborated with complementary businesses and industry influencers to create joint content and co-host events. By pooling resources and leveraging each other's networks, we expanded our reach and tapped into new audiences. Collaborative blog posts, webinars, and social media campaigns increased media coverage and fostered meaningful partnerships that fueled long-term growth."
Tina Shao of Homii Bottles
"Here is how I did my business growth.

Data-driven storytelling: As an Entrepreneur, I recognized the power of data-driven storytelling in capturing the attention of both media and customers. I gathered relevant industry statistics, conducted surveys, and analyzed market trends to create compelling narratives. By presenting data-backed insights in press releases and content, I positioned my business as an authority in the field, attracting media interest and boosting credibility.

Hyper-local PR: While aiming for broader media coverage, I didn't overlook the power of hyper-local PR. I engaged with local newspapers, radio stations, and community events to establish a strong presence in my local market. This approach helped me build a loyal customer base and garnered support from local communities, which further amplified my reach.

Unique content formats: Diversifying content formats was a key strategy in breaking through the noise. I explored podcasts, webinars, interactive infographics, and short video series alongside written content. These different formats catered to varying audience preferences and allowed my brand to engage with users across multiple platforms."
Read the full interview with Tina Shao
Kieran Sheridan of Gulfphysio
"When we just opened up our business, we barely had any orders. It's a sob story that I find quite funny now. I was scrolling through the internet and came across an online clothing store, not related to my business at all but I didn't see the difference in business, I saw the difference in strategies.

I did my research and started putting what I noted into use, it was 50% from the online store I saw and the other 50% was me winging it and hoping it would work out. I built a social media presence and started VIOLENTLY advertising, I wasn't beating people up to buy from us but I was always present, I was engaging and constantly interacting on social media.

It started from a "let me just check out their website" to " oh, pain relief patches, I do feel a little bit sore."

I was constantly in discussions and forums. If I saw a conversation like "My knee still hurts" I would immediately be there with replies and recommendations. Some would say it's crazy but they can't……. Because it worked."
Christina Collura of Creative Beginning
"With my Autism Advocacy and high interest in briding the gap between children of ALL needs and abilities, i reached out to our local news station and they picked up the story right away, as well as another local station! I quickly realized that any time my business was mentioned in media coverage, my website traffic increased dramatically! This one successful PR; literally put Creative Beginning on the map and started the road to even more PR!"
Dr. Hamdan Abdullah Hamed MBChB of PowerYourCurls.com
"My public relations strategy was a hit. Relating with the audience or target market isn't hard any longer. I was able to utilize Public relations strategies to build my business and gain more organic customers."
Vikas Kaushik of TechAhead
"One of TechAhead's most significant PR triumphs was when our innovative mobile app solution for a prominent global client received widespread media coverage and appreciation from industry experts. My team and I strategically engaged with journalists and influencers, resulting in extensive media exposure and increased client inquiries."
Read the full interview with Vikas Kaushik
Barbara Maheshwari of Remote Bob
"One PR success story of my business was securing a feature in a top-tier industry publication. I achieved this by crafting a compelling press release, targeting relevant journalists, and building relationships with key media contacts. Additionally, I capitalized on thought leadership opportunities, actively engaging in industry events and leveraging my expertise to establish credibility. This resulted in increased brand visibility, expanded network connections, and heightened industry recognition, ultimately driving business growth and attracting new clients."
Alex Alexakis of PixelChefs
"The PR success story of my business was getting featured in Valiant CEO as one of the top digital marketing agencies for small and medium enterprises. This was a huge achievement for me and PixelChefs, as it gave us a lot of exposure, credibility, and recognition in the industry and among the audience.

I got there by following a simple but effective PR strategy. I created a compelling pitch deck that showcased the value and uniqueness of PixelChefs and its services, and how we help small and medium enterprises grow their business online. I sent personalized and tailored emails to each journalist that I wanted to pitch, explaining why they would be interested in my story and offering to provide more information or an interview if they were interested. I followed up with each journalist after a few days, thanking them for their time and attention, and asking if they had any questions or feedback.

One of the journalists that I pitched was from Valiant CEO . He replied to my email and said that he was interested in my story."
Read the full interview with Alex Alexakis
Bryan Clayton of GreenPal
"One of the standout PR success stories for GreenPal has been our organic traction gained through local media outlets. When we initially expanded to new cities, rather than going for national attention right off the bat, we focused on local newspapers, TV stations, and radio shows. We believed in the philosophy that local stories matter, and they can generate a ripple effect.

Let me explain why this strategy was pivotal. Most local media are always on the hunt for entrepreneurial stories or new businesses entering their city. So, we pitched stories about how GreenPal was helping local lawn care professionals grow their businesses, while at the same time making the lives of homeowners easier. This wasn't just a business expansion; it was a community-driven effort.

Here's what we did:

Localized Press Releases: Every time we launched in a new city, we sent out press releases tailored to that city's context, highlighting local lawn care professionals' stories who were already benefiting from our platform.

Engagement in Local Facebook Groups: This was a game-changer for us. We monitored local groups, and whenever someone was looking for lawn care advice or services, we jumped into the conversation. This not only got us customers but also caught the attention of local reporters and bloggers active in these groups.

Hosting Community Events: To solidify our local presence, we occasionally organized community events, inviting local lawn care pros for workshops or meet-and-greets. These events often garnered media attention.

Relationship Building: We didn't just send a press release and forget about it. We took the time to build relationships with local journalists, understanding the stories they were interested in, and providing them with unique angles related to the gig economy, tech integration in traditional businesses, and more.

Leveraging User Testimonials: Real stories from real users. We've found that journalists love these. So, we regularly shared success stories of both lawn care professionals and homeowners benefiting from GreenPal.

The results? On numerous occasions, we got featured in local dailies, invited for interviews on local TV morning shows, and even got mentions in popular regional podcasts. This localized PR approach not only gave us a strong foothold in new markets but also set the stage for the larger, national media coverage that followed.

Our journey was a mix of strategic planning, genuine community engagement, and, most importantly, offering real value to both homeowners and lawn care professionals. That's the foundation of any lasting PR success story."
Read the full interview with Bryan Clayton
Dmitrii Kustov of RegexSEO
"One of our breakthrough moments came when we secured a contract with a prominent home service company in their industry. This partnership not only elevated our reputation but also attracted more clients from the same industry. As more business poured in, we found ourselves overwhelmed with the workload.

The essence of our partnership lies in their recommendation of our services. Other businesses in the same industry have witnessed the results and have started approaching us as well."
Read the full interview with Dmitrii Kustov
Neil Gallagher of Brighterway Solar
"Our PR is something that we try to improve every day. It began accidentally when I noticed an inaccuracy in an article covering the solar industry. I reached out to the reporter informing them of the mistake (calculation error) not expecting an email back. Next thing I knew I was their "trusted solar expert". This has opened many doors and fostered many connections. "
Read the full interview with Neil Gallagher
#PRontheGO