PR ON THE GO November 28, 2022
30 Reasons You Should Invest in Public Relations
Brand growth through PR
We asked our PR and growth experts to give entrepreneurs reasons why they should invest in public relations. Each of our experts gives a good reason and the benefits of increasing PR efforts. Read ahead


1) Tell Your Story
"Public Relations is an essential investment for startups and founders because you need to tell your story. Your story has the power to bring people in and create community. A PR pro will take into account the marketplace and your unique differentiators to help you tell your story with authenticity. You know your business, but a PR pro knows storytelling. This is an investment that will pay off time and time again."


2) Humanize Your Brand
"You have made it this far in your business, why keep it a secret! Share your passion, vision and hard work with the world, to listening ears, they want to hear your story- I know I do!

Behind every great business is a human being with a unique story. Sharing your passion, vision, and the results of your hard work with the media can be intimidating, but it's the authenticity of your story that helps to humanize your brand. Good press informs potential customers, investors, and team members why you do what you do and why your work matters. Plus, it reminds them that there's a person behind the product, allowing stakeholders to better emphathize and identify with your brand, building loyalty in the process."


3) Establish A Robust Image
Evan Nierman, CEO and Founder of Red Banyan
"PR is the way for an early-stage business to dramatically reshape the way people think of them—both now and for years to come. In addition, targeted PR strategies can help startups create positive public images, establish social media networks and forge traditional media contacts. Public relations for entrepreneurs and startups is often the key to establishing a robust image from the start."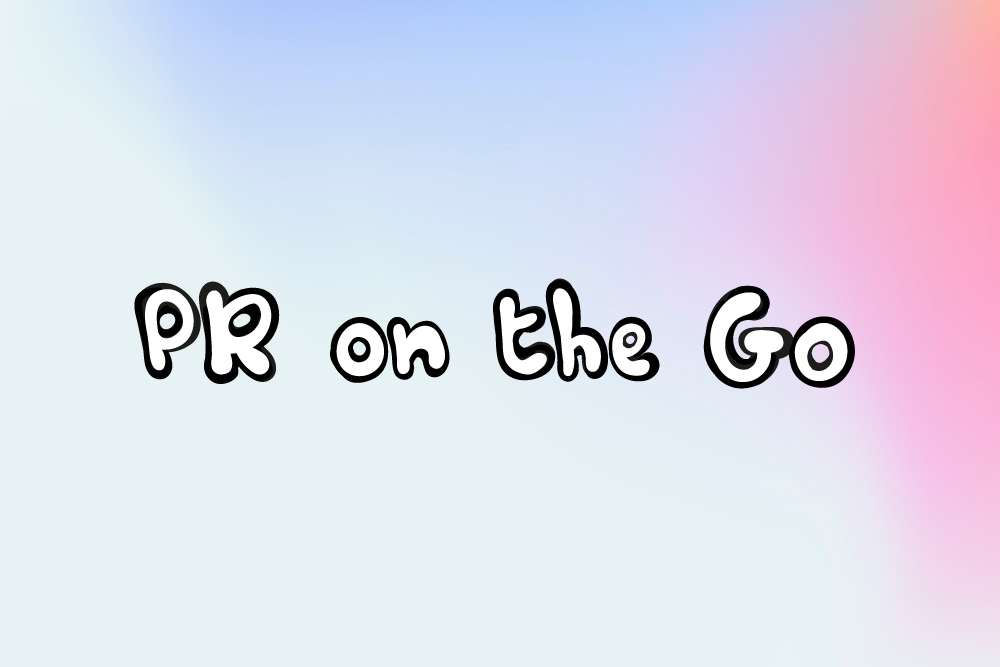 PR ON THE GO Media Lists: Get your hands on journalist email contacts for your startup. FROM ONLY $10 PER LIST.
4) Build Online Presence
"Media wins live on the internet forever, providing both an immediate short term impact and long-term value in the form of online presence and quality backlinks. This means that, unlike paid ads for instance, you can invest in PR now and reap the benefits long into the future."


5) Maximize Your Advertising's Effects
Steve Rose, Vice President at MoneyTransfers
"Now, more than ever, people recognize and understand that public relations (PR) is earned media as opposed to paid media like advertisements. Because of this, your brand's credibility will be significantly bolstered at no cost to you. Your brand's credibility can be strengthened most by the endorsements of third parties. PR is a great addition to marketing and sales because it boosts the impact of paid media, which in turn helps people recognize and like a company's brand without being told to."


6) Boost SEO
Deniz Kuran, Head of Marketing at Idiomatic
"As the Head of Marketing at a startup in Silicon Valley, I can confidently say that investing in PR pays dividends. Not only does it help with traditional marketing efforts, but it also helps with SEO. The better your digital PR is, the better your rankings will be in seach results and the more authority your site will have in Google's eyes. This results in more organic traffic, leads, and revenue—which is essential for any business to grow and succeed."


7) Introduce New Differentiating Terms
Josh Pelletier, Chief Marketing Officer of BarBend
"If an industry is shaken up, I believe that all of the companies that are currently operating within that sector need to adjust their narrative in order to continue to exist in the market. The mattress industry is a good example of this phenomenon because of how competitive it is. Redefining the terms that the media and the general public use to describe a company or industry is one of the primary purposes of public relations (PR), which is an acronym for "public relations."


8) Attract Qualified Candidates
"Companies should always be investing in PR because of how it helps with recruitment. PR is an amazing tool for recruitment purposes in that interested individuals get to see company values and other elements before they even apply for a job with them. This can be critical in attracting candidates with the right personality type or work style. The more popular a company is, the more pre-existing knowledge candidates will bring about the brand to the table."


9) Establish A Trustworthy Brand Reputation
Nick Edwards, Managing Director at Snowfinders
"Unlike marketing, which focused on convincing consumers to trust a brand, public relations tries to demonstrate trust by creating credibility. When a firm has an article written about it or connects with customers on social media, the general public can be inspired to learn more about the brand without feeling obligated to take immediate action. Also, the trust may be built by being transparent in how business is performed and how the company connects with the community."


10) Attract New Business
Kenny Kline, President & Financial Lead at BarBend
"PR, in my opinion, will assist you in luring in new clients. No, if you start using some of the strategies, the phone won't start ringing nonstop, but you will notice a change. People will be more open to you and talk about you more as a result. The power of word-of-mouth marketing cannot be overstated, so do all in your power to spread the proper message.. This is one of the main justifications for the significance of storytelling."


11) Invest Cost Effective
Tom Miller, Head of Content at FitnessVolt
"PR is not inexpensive, but compared to other marketing mix specialisations, it is cost-effective. Given the significance of public relations strategies, it is a continual source of annoyance that they are neglected, but such is life. Some of the top brands in the world have depended significantly on public relations, and it has consistently delivered for them. Consider virgin and innocent beverages. They utilised PR to launch and grow companies that generate millions in revenue."


12) Get News And Updates Out To The Public
Ryan Gorenflo, Digital Marketing Manager for Mr. Roof
"Public Relations is a perfect chance for companies like mine - a roofing and construction company - to share the work they do with local media and niche publications. Without sharing messaging about industry news, company accomplishments, and the impact they have on the community they work in, there's a huge gap in your messaging.

PR is a unique space that can do a ton of positive things for a company in the construction space or similar niches. Without proper and traditional PR practices, there's a giant gap in the company's ability to get news and updates out to the public."


13) Build Brand Credibility
Emilie Appleyard, Community & PR Specialist at Fifth & Cor
"At Fifth and Cor, a marketing and innovation company, the #1 reason we advise our clients to invest in PR is that it builds credibility for their brand. While a brand can advocate for themselves and say their product or service is great, having another trusted outside voice tell the story is what really moves the conversation forward and builds credibility for the brand in their industry..

Brand credibility is important because it speaks to the quality of a company and the values they hold. By having credibility, a company is able to build consumer trust which can lead to a long term loyalty from the consumer."


14) Find Your Brand Voice
Raine Riley, Account Executive at JDPR
"Investing in Public Relations and partnering with an agency early in your business can help you find and strengthen your brand voice.
A strong brand helps businesses stand out from the crowd and a key element to building a strong brand is finding and defining your "brand voice." Your brand voice is essentially your brand's personality. As the founder, you may have an idea of what your company's brand voice is in your mind, but a PR expert can help bring that abstract idea to life. They can put your idea into words and nurture it until it is consistent across all levels of communication, whether you're telling your story internally with employees, directors or investors or sharing it with a broader audience like current or potential customers."


15) Promote Brand Values
Leszek Dudkiewicz, Head of Marketing at US Passport Photo
"One of the main aims of PR efforts is to promote brand values - which really pays off. Today, 77% of consumers buy from brands that share the same values as they do. That means that promoting your products alone is not enough because customers also search for your brand manifesto when making buying decisions. So if you want to maximize your sales, you should also promote your brand values, meaning invest in public relations."


16) Motivate Your Team
Cynthia Hamilton, Marketing Director at Oglf
"Putting money on PR can lower staff turnover. Companies that don't think twice about investing in PR make an attempt to present a favorable impression of the company to consumers. Successful PR management welcomes the brand's online popularity and attention, which empowers and motivates its current staff. Since they believe they are a part of something significant and important, they don't consider leaving their work. PR doesn't just entail maintaining good relationships with customers and future clients; it also involves strengthening the bonds between employees and the business."


17) Develop Your Positioning
Beth Wilson, MBA, APR, Founder+Chief PR Officer at Wilson Public Relations
"Pretty much every new business or organization needs their brand to not only make a splash, but also to "stick" in their industry or economic ecosystem. Public relations is about taking the qualities and unique factors that make up a business and crafting verbal and often visual branding to generate or expand awareness.

Without the subject (a brand, a company, and so on) having a position, businesses are essentially ceding space to others to build everything from goals to audience orientation for them. Without both a story and a compelling way to tell it, organizations easily get lost amid the competition, and even internally, their teams can feel less purpose or ownership in their work."


18) Gain Value From Exposure
Paige Arnof-Fenn, Founder & CEO at Mavens & Moguls
"Because it works, there is an ROI! PR is the most cost efficient way to get your story out, an investment rather than expense. If a story about you in the media leads to new customers/shortens your sales cycle then the cost of hiring a PR firm more than pays for itself pretty quickly. Every time a new article hits/you speak at an event/quoted in the media there is value in that exposure/instant credibility/third party validation which carries a lot more weight than a paid ad. When that exposure gets prospects to reach out/decide quicker/hire you/buy your products it more than pays for itself."


19) Boost Word Of Mouth
"I can attest that third party credibility simply works better than first person advertising. PR is non-paid awareness and word of mouth, usually by a third party like media or a market analyst. These parties bring authority to their coverage of you and your business, which lends weight more than you placing an ad talking about yourself. Further, PR consists of other thought leadership opportunities, such as speaking at an event or winning an award. Both of these scenarios bring further outside validation of your expertise or offerings, and bring the added benefit of them promoting you to their networks, which extends reach and awareness beyond just your network."


20) Sculpt Your Company's Narrative
"There is a reason for the term "court of public opinion". If you don't take hold of your public relations, they will take hold of you, especially as your organization grows. By investing in PR, not only are you boosting your presence, but you're also sculpting the narrative surrounding your company. In a world with increasing competition, having a strong and unified narrative is hugely helpful from a branding and marketing perspective. We have had many new clients citing seeing us in the press as a reason for choosing to work with us, so the benefits of good PR cannot be overstated."


21) Secure Profile Raising Opportunities
"You can't be part of the conversations you don't know are happening. Investing in public relations is often viewed as something to work up to, or that only big companies need, but that couldn't be farther from the truth. As a startup founder or creator, at any given time, you're wearing multiple hats, and while your focus is being pulled in every direction imaginable—dealing with suppliers, monitoring e-commerce activity, reviewing financials, etc.—profile-raising opportunities you don't have time to pay attention to are being snatched up by other companies.

By investing in public relations, you have a support person or team monitoring news outlets, social media channels and other platforms not just for mentions of your company, but for strategic opportunities to create a seat for yourself at table after table. This could come in the form of a new study someone on your team is qualified to comment on, a viral trend that pertains to your business, an event your company should be a part of, and a whole list of other opportunities to amplify your presence among targeted audience segments."


22) Gain High Quality Backlinks
Lobban Erwin, Media Relations Specialist at seoplus+
"One of the many benefits of investing in PR is that it can hugely increase the search engine optimization of your website. The impact of public relations on search engine optimization is undeniable. The more publicity you receive online, the better your SEO will be. If PR strategies are used correctly, it will add a number of good quality backlinks to your website. Links from different websites are an important factor used by search engines like Google to determine how well-known a website is and how relevant it is to users' searches.
When you work with a good PR agency, they will often submit articles, quotes, or insights about your company to various websites, where they hope to earn a link back to your site. In addition to this, they can submit press releases or news items about the launch of a new product or service that includes links back to your site as well. Unlike some link-building techniques, PR efforts provide you with high-quality, natural, white-hat links that Google will value. These PR-generated links make it easier for search engines to determine how well-known you are online so that they can properly prioritize your site. Brand recognition is vital to your success, and search engine optimization through PR will greatly add to that recognition."


23) Think Outside The Box
"As a PR professional, I think it's so key to enlist the help of a publicist because they will help you think outside of the box when it comes to promotion. Sure, you can go down the usual routes of media interviews, press releases, etc - but a publicist can also help you align yourself with other organizations to help with cross promotion. Cross promotion helps get you company in front of a new audience and insure additional legitimacy."


24) Increase Customer Lifetime Value
"The most important benefit of PR is that it builds your brand image. It's an opportunity to share your brand identity and let your audience get to know your brand. When done right, PR can build trust in your brand and increase the goodwill factor of your brand. When your target audience knows and trusts your brand, you've created a connection that can lead to a long-term relationship with your customers, thus increasing customer lifetime value."


25) Initiate Action
"Public relations professionals provide a highly tailored approach to the art and science of storytelling; the practice is integrated and targeted, using a variety of tactics, media, and precise messaging to expand your brand's position as a thought leader across prospective customers, stakeholders, partners and more. Public relations professionals are uniquely positioned to act as an extension to your team: They invest time into knowing your story and develop a precise approach to help your brand resonate with the right people and provoke action to help grow your business."


26) Create A Long-Lasting Impression
"As a business owner, I was able to see the benefits of PR almost immediately through some good luck with local media, and have tried hard to leverage it ever since. Marketing strategies are obviously important, but I find PR work has a longer-lasting impression and can help you carve out your branding more effectively. Marketing campaigns last as long as the most recent campaign, but PR molds your company and allows you to create a network of success..

Someone like myself can especially benefit from PR as I work permanently in one location. I've been able to create a strategic and authentic PR strategy that has really helped us grow. PR strategies have to evolve if you are an online company or aren't stationed in one location, but the ability to be creative with PR campaigns is a positive thing.

Bottom line: You should invest in Public Relations because there's a long-term benefit to the work you do which has only been complemented by modern advancements like SEO and the power of search engines."


27) Build Brand Recognition
"Digital PR is growing in popularity and is well within SMBs reach. Shifting your focus to Digital PR not only helps build brand recognition but is vital to off-page SEO. Reaching out to journalists via platforms like HARO, Terkel, or PressPlugs for UK brands, can land you links back to your site and position your business as industry experts. Consistent and targeted digital PR boost your ranking and drive traffic to your site. In my view digital PR should be something every business is incorporating into their Marketing Budget in 2023."


28) Create A Pipeline To Your Audience
Sherese Patton, Founder & Principal Publicist of The Patton Agency
"Businesses can absolutely benefit from hiring a PR agency more than they realize. PR is a critical part of any business, even when they are early in their creation. The biggest benefit is gaining visibility for your business, the products it sells or the service it provides. Visibility is how you create a pipeline to your audience and many times it can assist with giving a boost to your sales.

The problem begins when new businesses fail to implement PR strategies or don't even create a strategy at all. This is not a good idea or a good practice when it comes to getting visibility for your business. In order to succeed as a business or even disrupt your industry (if that is the goal), public relations is an essential part of your marketing strategy. Whether you know it or not, visibility is the very thing that all businesses desire! Hiring a PR Agency, or independent PR Pro, will be your best investment into your business!"


29) Gain Third Party Endorsements
"The biggest benefit of PR that I always stress to clients and students is that it reflects a third party endorsement of your company and its products and services. There are four ways that we are influenced as consumers when buying a product or service.

- Through our own experience. We try out a new restaurant and either like it or don't.

- Through word-of-mouth (WOM) recommendations from friends, relatives, colleagues, etc. - they try out a new restaurant and tell us it's great so we give it a try.

- By what others say about a product or service, specifically the media, or PR coverage. Whether it's the local news, a trade journal or publication, or a blog, a non-biased third party evaluation or commentary on a product or service is more trusted than what companies say about themselves or their own products and services.

- Which is the fourth way we're influenced - through advertising/marketing. While certainly effective it is not *as* effective as third party endorsements.

That's why PR is so valuable."


30) Claim Your Authority
"When people know your brand, they're also more aware of your authority and value. They know what you do and how you do it. They know how your brand compares to the competition. You might think that your services or products can speak for themselves. That's the case for some products and services, but not for all of them. Sometimes, you need to do more and show people what you can do. When you do this, people know how you compare to your competitors. They're more likely to choose you when they need your product or service."


#PRontheGO